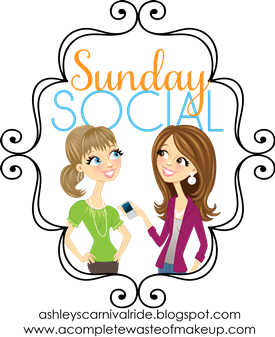 Linking up for the first time with Ashley @ Ashley's Carnival Ride and Neely @ A Complete Waste of Makeup heard from by Natalie at Our Forever.
This is Week 9 for their Sunday Social
and here are the following questions for me to answer!
1. What is your favorite fall activity?
I would have to say supporting the DAWGS! Football is my favorite sport to watch on TV and fave sporting event to be at... carving pumpkins(me and my fiance did these last fall),
I do love decorating and just being able to be outside without melting! These Georgia temps this summer have been brutal and I am looking forward to cooler temps.
2. Do you follow a football team? If so which one and why?
Yes sir I do! I'm sure already from the picture below you see it's the
GA DAWGS!!
3. What is something fun about fall in your area?
For the past few years one of our friends has hosted a Halloween Party.. Last year Coach and I were Snookie and Pauly D.. I now have the nickname, Snookums.

4. What are your favorite fall outfit staples?
Scarves, scarves, and more scarves.. My favorite ones last year were these from Express:
and my Steve Madden boots..
5. What things are you looking forward to most about this coming fall season?
MY WEDDING!! Coach and I are getting married on November 17! I cannot wait!
6. What is your favorite fall holiday? Traditions?
It would have to be Thanksgiving. I love all the Southern cooked food my grandmother makes. And I get to see all my family. It can get quite entertaining at times with this bunch..