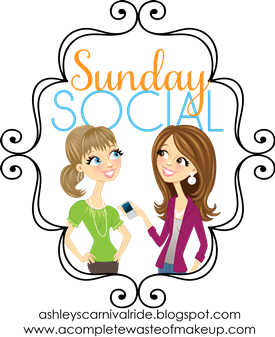 Having fun with these Link ups!
1. If you could only eat one thing for the rest of your life, what would it be?
I think that would be French Toast.. O...M...G...
2. What's your guilty pleasure/comfort food?
Reese's Peanut Butter cups.. Milk and Oreos.. Reese's Peanut Butter cups..
Ok, I have decided Milk and Oreos!
3. What's the weirdest/craziest thing you've ever eaten?
I think this would have to be Seared Ahi Tuna.. I had to try it when I worked at PF Changs. Although I love sushi, I could NOT get this down.
4. What foods do you avoid at all costs?
Anything fast food. I am quickly realizing there is absolutely nothing nutritious about it. Oh, and coconut. Can someone say gag???
5. What meal reminds you of your childhood?
Lasagna.. I cannot remember the last time I had it and my mom can make a GREAT one!
6. Share one of your favorite recipes and the story behind it.
Mexican Chicken
4 boneless, skinless chicken breast halves
2 tablespoons taco seasoning
1 cup salsa, divided
1 avocado, pitted, peeled, sliced
1 cup shredded Cheddar cheese
Preheat oven to 400*. Season chicken with taco seasoning. Bake uncovered in greased 2 quart casserole dish for 20 minutes. Spoon 1/2 cup salsa evenly over chicken.. Bake, uncovered, for 15 minutes. Remove from oven, and top with remaining salsa, avocado slices, and cheese. Bake, uncovered, 5 more minutes.
***If I want to change it up a bit, I do chopped jalapenos and black sliced olives. (super yummy!)
***Use a mild salsa because the taco seasoning gives it a KICK!
***Add some black beans for a side dish and you are good!
If you haven't had a chance to read what a WONDERFUL cook I am, let me fill you in that at times the kitchen is not my friend. So I have always stuck to easy things and avoided the kitchen at all costs. Then one year my grandmother gave me this cookbook:
..And the kitchen has slowly become my friend. The recipe above is from this cookbook. When I lived in Athens, this was one of the first things I cooked for Coach when he came over for dinner. (I had to start out easy.. I couldn't be embarrassing myself ya know!) It is now one of his FAVORITE dishes and we actually had it for dinner the other night!
I have made several recipes from this book and it has also helped me broaden the horizon, if you will, in the sense of adding to a recipe or trying different things in that recipe. If I am ever stuck on what to cook I always turn to this for something new. And it's easy to make it as healthy as possible, too!
Hope you enjoy this recipe as much as we do!