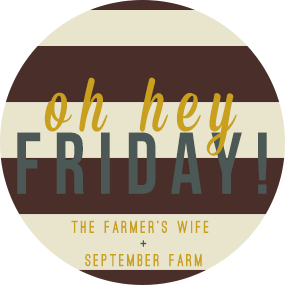 Excited to be linking up today! Go ahead and do it yourself!
You can find info for
oh hey Friday
link-up
here
!
***************
I have done some pretty fun updos in my day but I think this is one of my favorites I have done for Homecoming thus far! Love this girl!
Her dress was gorgeous and she looked breathtaking in it!
Lock her up Mom and Dad!
I was on my way home to the gym last night when my Sis in Law called to stop by... some BEEEEEPPPP dumped these sweet babies out last night across her house. Our road is KNOWN for animals being dumped... that's where we got Sox and Mara.
I posted this picture on Facebook and within NO time one of my friends I graduated with said she would take them both! I am sooo glad they went together to a LOVING home!
I STILL don't understand heartless people who just dump helpless animals on the side of the road.. I'm so thankful a hawk didn't get them!
Sooo I made a quick trip to Hobby Lobby Wednesday night and picked up a few goodies.
This necklace came together and I don't think it's too shabby if I do say so myself!
It's for sale at the Sassafras!
YAY for some FREE TIME yesterday!
I know we haven't even gotten to Halloween yet but me and Amber LOVE some Christmas decor and we got a head start on just that!
When we were at the
festival
I saw some pretty awesome fabric garland and that got my wheels spinning. I love doing a different 'theme' each year and can't wait to get started on more! She has TONS and TONS of scrap fabric so we made a date to get started and here is what I ended up with!
I am SOOOO PROUD of it and can't wait to finish it!
Tutorial post coming soon!
P.S. I haven't forgotten about fall and I am looking forward to sharing with you our fall decor around the house!
Coach just has gotten the rest of my fall decor down from the attic...
Goodness I love decorating.
And I can't WAIT to get pumpkins!
Speaking of Christmas, Amber is so thoughtful and surprised me with this new notebook and this years Southern Living Christmas book!
I seriously LOVE these! We have a TON of them from years past in the salon and Amber has her own collection too. Mine got started last year!
WHOOP WHOOP!
Love you woman!
HAPPY FRIDAY ALL!
After work I'll be getting ready for a family yard sale for tomorrow!
Wish us luck!